Wright Plastic Surgery: Dr. Eric Wright
1701 Center View Dr #201
Little Rock, AR 72211
Phone: (501) 575-0088
Monday-Thursday: 8:30 a.m.–4:30 p.m.
Friday: 8:30 a.m.–1:30 p.m.

Laser Skin Resurfacing
As your skin becomes damaged by the sun and aging, your complexion turns dull and wrinkles begin to form. Lotions and serums claim to offer some relief—but the results are usually short-lived. If you want a long-term solution to uneven skin tone, laser skin resurfacing in Little Rock, AR, can help. Dr. Eric Wright and his staff help countless North Little Rock, Conway, Benton, and Hot Springs women and men freshen their faces and attain smoother, more youthful-looking skin.
Laser Skin Resurfacing

Before & After Photos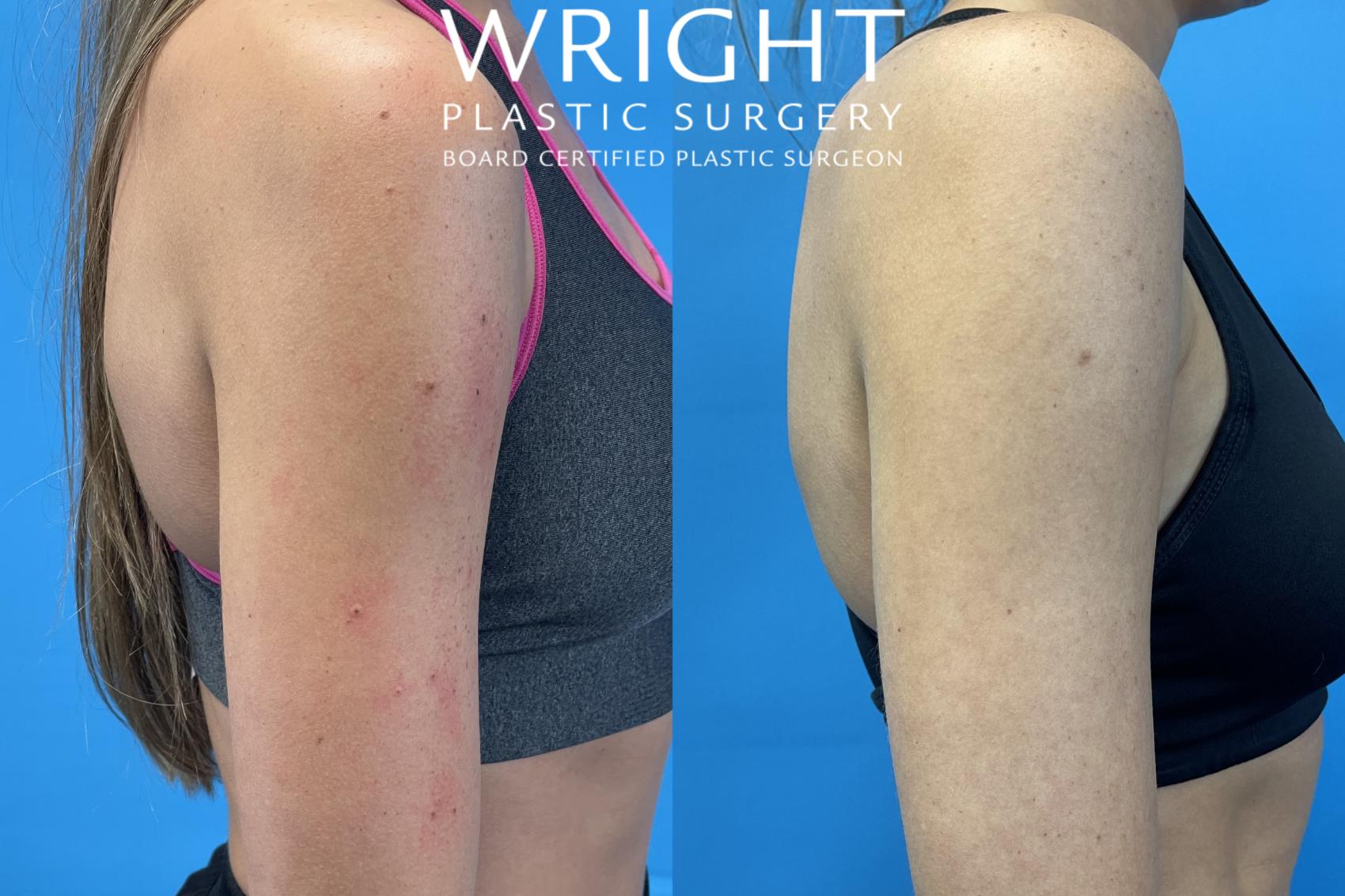 Before & After
Laser Skin Resurfacing Case #351
This patient presented with desire to improve sun spots. She had an IPL laser treatment done to improve the appearance of her arms.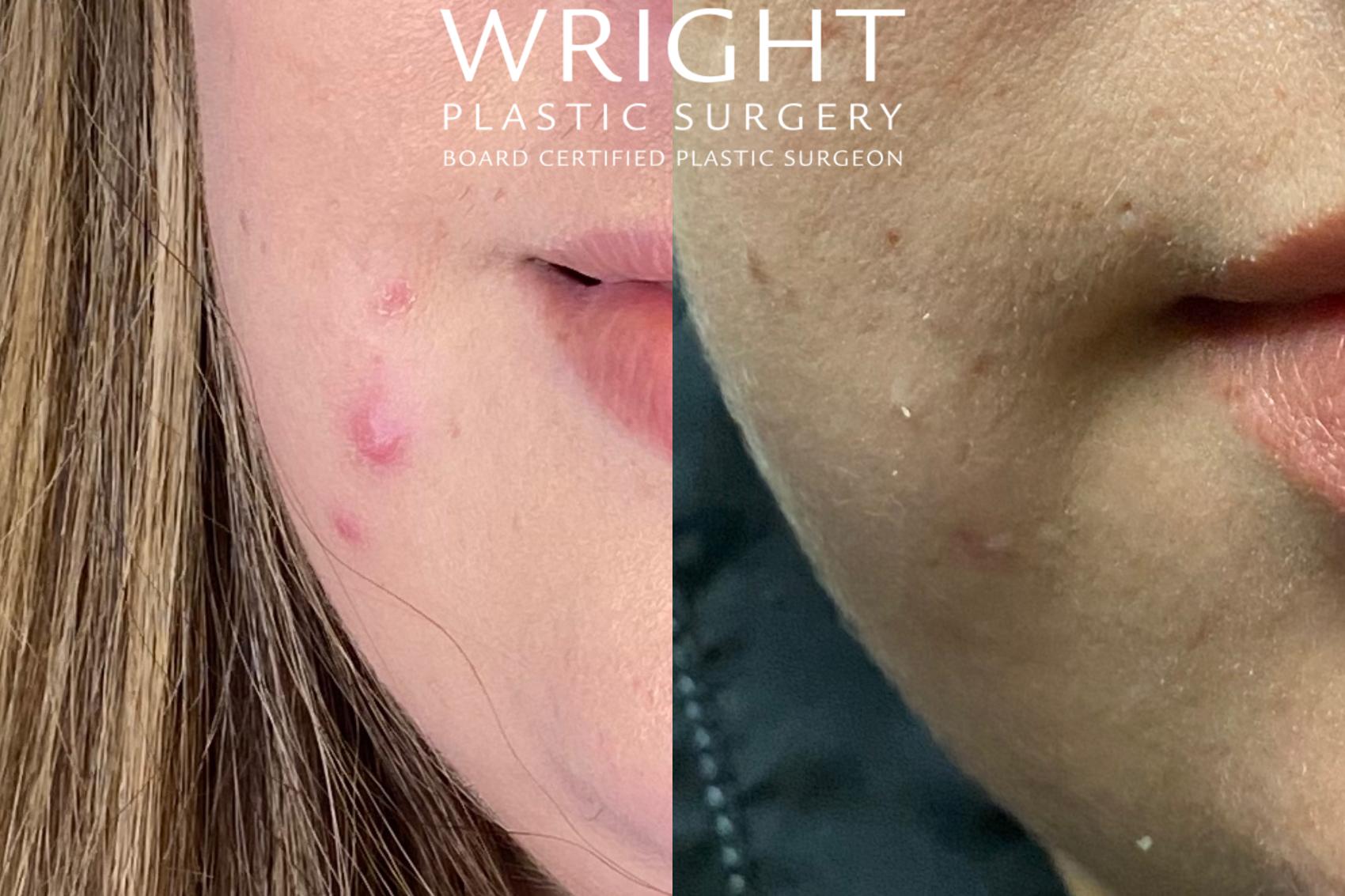 Before & After
Case #70
Facial acne laser spot treatment with IPL (Intense Pulse Light) in 30-year old woman with acne around mouth and chin
Keep in mind that each patient is unique and your results may vary.
What is laser skin resurfacing?
Laser skin resurfacing is a nonsurgical procedure that uses beams of light to remove dead skin cells. When used on the face, it addresses common issues such as wrinkles, scars, and blemishes. This innovative technology is extremely precise and is suitable for even the most delicate areas. A few minor flaws that laser resurfacing can treat include:
Fine lines and wrinkles
Acne scars
Sun spots
Birthmarks
Uneven skin tone
Enlarged pores
Laser skin resurfacing is very effective for diminishing mild, shallow wrinkles. You can also ask about getting Genius® RF microneedling to treat acne scars or reduce mild wrinkling. Men and women with deeper wrinkles and lax skin, however, will enjoy more dramatic rejuvenation with facelift surgery.
About Dr. Wright
As a board-certified plastic surgeon and Arkansas native, Dr. Eric Wright is dedicated to helping Little Rock women and men look and feel their best with both reconstructive and cosmetic plastic surgery options.
Meet Dr. Wright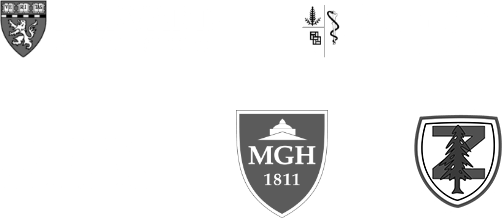 Am I a good candidate for laser skin resurfacing?
Laser treatments can help patients improve their skin in many different ways. If you struggle with wrinkles, discoloration, or uneven skin tone, laser skin resurfacing can help. Ideal candidates are those who have:
A lighter skin tone
Problem spots near the skin's surface
Minimal skin sagging
If you are prone to cold sores or fever blisters, treatment may increase the chance of a breakout. Those on acne medications such as Accutane should also refrain from treatment. HydraFacial® is a gentle, rejuvenating skincare treatment appropriate for most people that can improve the skin's appearance, texture, and health.
For patients who want to address acne scars, stretch marks, or fine lines and wrinkles on the face and neck, SkinPen® Microneedling treatments are an alternative to laser skin resurfacing.
A Reputation Built on Results
If you are looking for a board-certified plastic surgeon, Eric Wright in Little Rock, Arkansas is your...
The best of the best! Could not recommend more! The entire staff is amazing and walks you through every...
I highly recommend Dr. Wright. He's very knowledgeable, and I was put at ease by his willingness to...
Dr.Wright is hands down the best Plastic Surgeon!! I had a wonderful experience and I would refer everyone...
What happens during a laser skin resurfacing treatment?
Laser skin resurfacing uses the power of light to remove dull, dead skin. During treatment, the laser sends a short, concentrated pulse of light at your targeted treatment area. The heat of the laser stimulates new collagen growth while also removing damaged skin layers.
The procedure takes 20 minutes to 1 hour to complete, depending on the number of areas treated. Patients are left with smoother, firmer, clearer, younger-looking skin.
Traveling for Treatment?
Try Our 3-Step Process
If you're visiting Little Rock to see Dr. Wright, our patient care team will help make your trip easy and enjoyable.
Have Your Virtual Consultation
Make Your Travel Plans
Prepare for Your Surgery & Recovery
Learn More
Learn More
Is laser skin resurfacing painful?
No, laser skin resurfacing isn't a painful treatment. However, there may be a mild amount of temporary discomfort. Some patients compare the sensation of the laser to that of a rubber band snapped against the skin. Your provider will be carefully watching throughout the entire process to make sure you are as comfortable as possible.
After laser skin resurfacing, how much downtime will I need?
As a nonsurgical procedure, laser skin resurfacing doesn't require a significant amount of downtime. The skin may be red and sensitive afterward, but you can still go to work and follow your regular schedule. Avoid activities such as swimming or exercise until your skin has completely healed. This caution prevents infection and ensures that your results heal as attractively as possible.
How long do laser skin resurfacing results last?
The results typically last up to 1 year. To maintain the health and beauty of your skin as long as possible, be sure to wear SPF 30+ sunscreen whenever you are outdoors and avoid direct sun exposure. You can come in for maintenance treatments as needed.
Request Your Consultation
If you would like to rejuvenate your skin with laser skin resurfacing, request a consultation with Dr. Wright. You can also contact our Little Rock office by phone at (501) 575-0088.
Back to Top