Have you looked at photos of celebrity moms relaxing on the beach with their young children and wondered, "How do their bodies look so amazing?" These types of photos lead women to believe that if they exercise enough and follow a healthy diet, they can regain their pre-pregnancy bodies. What they may not realize, however, is that many of these celebrities undergo a plastic surgery procedure called a mommy makeover.
At our Little Rock, Arkansas, plastic surgery practice, Dr. Eric Wright performs this suite of body contouring procedures for patients whose mid-section and breasts reflect the physical toll that pregnancy and breastfeeding have taken on their bodies. These changes—excess abdominal skin, a "belly pooch," and sagging, deflated breasts—can't be reversed with extra crunches or pushups.
What Is a Mommy Makeover?
The classic combination of procedures involves a tummy tuck, liposuction, and some type of breast enhancement surgery. Even though mommy makeover is a cute phrase, it's important that women understand this is a major surgery that requires fairly significant recovery time. But patients believe the transformative results are well worth the temporary discomfort associated with the healing process.
Not all patients who want to combine body contouring surgery with a breast lift or breast augmentation have children. The changes that result from pregnancy are also associated with aging and significant weight loss. Still, the majority of patients considering mommy makeover procedures are younger moms who want to feel confident in their bodies, whether they're dressed for the beach, the ballroom, or more intimate settings.
When Should You Get a Mommy Makeover?
It's not unusual to have patients say their only regret in getting a mommy makeover is that they didn't do it sooner. It appears women are heeding this advice. According to RealSelf, a popular online resource for people considering plastic surgery, the primary demographic researching mommy makeovers is 25- to 34-year-olds. Statistics from leading aesthetics organizations also show that the procedures included in mommy makeovers are also popular with patients under 45.
Other things to keep in mind regarding the timing of your procedure include:
If you're planning to have more children, we recommend postponing the procedure.
Wait at least 6 months after giving birth so that your body is completely healed.
Women who breastfeed their children should wait at least 6 months after weaning.
After a mother finishes breastfeeding, her breast tissue needs time to shrink. Patients should also be as close to their optimal weight as possible before scheduling the surgery.
Emotional readiness is equally important when someone is considering a mommy makeover. For example, since patients won't be able to lift their small children during the recovery period, many people find it's easier emotionally and physically to wait until children are more independent.
What's Involved in a Mommy Makeover?
There are multiple benefits of getting a mommy makeover. For moms with children at home, having to arrange for only a single recovery period is invaluable. There are also cost savings involved because certain fees only need to be paid once, and there's an emotional benefit to completing the physical transformation at once instead of staging the procedures.
Combining procedures is safe when an experienced, board-certified plastic surgeon performs the surgery. Dr. Wright customizes a mommy makeover to address each patient's specific concerns after discussing her options at a consultation.
Here's a look at the most common procedures included in a mommy makeover:
Tummy Tuck & Liposuction
It's rare to perform a tummy tuck without liposuction. A tummy tuck removes excess abdominal skin that's stretched during pregnancy, but it's often not the only body contouring procedure that's needed during a mommy makeover. Some patients have a belly pooch over the belt line in addition to the excess skin caused by bulging abdominal muscles. A tummy tuck tightens the muscles, and liposuction reduces excess fat on the hips, flanks, and even the bra line.
This combination produces a flatter stomach and smooth, contoured results overall.
A tummy tuck requires the surgeon to make an incision that stretches from one hip to the other just above the pubic area. The scar, which is low enough to be concealed by bikini bottoms, usually fades after a year or so.
Breast Lift With Implants
Many patients want to restore a more youthful appearance to their sagging and deflated breasts. Combining a breast lift with implants reshapes and elevates the breasts and restores their pre-pregnancy fullness or increases the size. If a patient is satisfied with the size of her breasts, a breast lift alone may be all that's needed.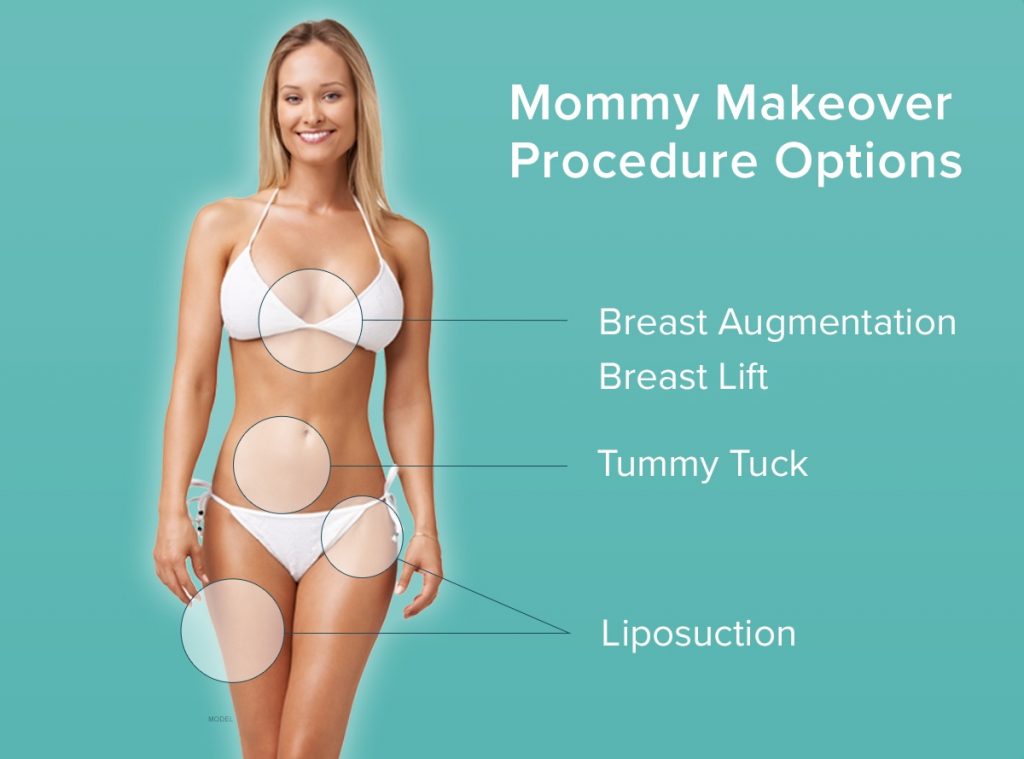 Mommy Makeover Recovery
A mommy makeover is major surgery, and you'll need plenty of rest to help you heal after the procedure. Being realistic about the recovery makes it easier mentally to cope with the challenges. For example, it's difficult to explain to toddlers why you can't pick them up or why mommy needs to stay in bed so much. Preparing yourself for those challenges is helpful.
Besides general discomfort, you can expect to experience tightness, swelling, and bruising during the first week after surgery. Medication helps manage your pain, and following our post-op instructions greatly minimizes the risk of complications. Plan to take at least 2 weeks off from work if you have a job that's not physically demanding.
Prepare for the recovery by creating a special area where you have access to everything you'll want. Have extra pillows, including a full body pillow, available to support your body completely.
At 6 weeks post-op, most patients can return to their normal exercise routine.
How Much Does a Mommy Makeover Cost?
Estimating the cost of a mommy makeover isn't really possible because the procedures vary from patient to patient. The complexity and number of procedures involved will affect the price. Dr. Wright and his team discuss the cost of a mommy makeover with patients after the consultation so they know exactly what is included in the price.
If you are considering a mommy makeover and looking for the best plastic surgeon in the Little Rock area, request a consultation with Dr. Wright using the online form or call us at (501) 575-0088 to schedule an appointment.